Use the kit exclusively to achieve a 100% plant based diet and the most dramatic and rapid improvement to your health.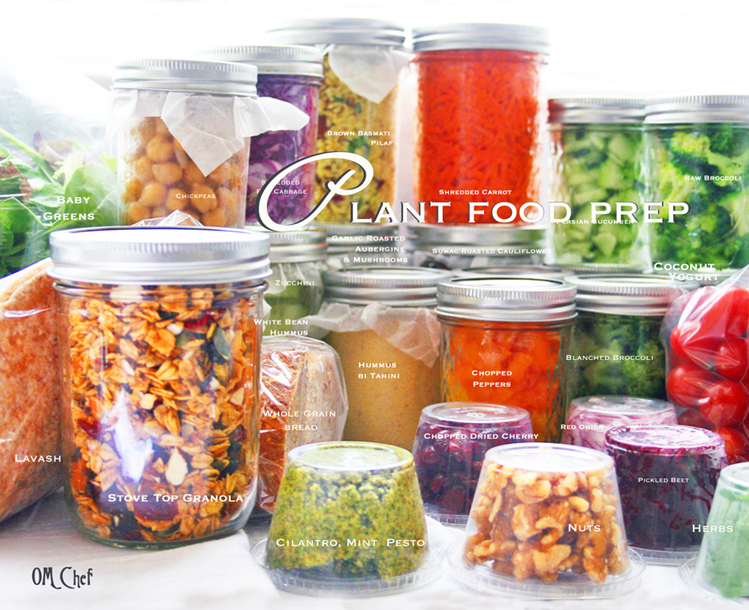 85% raw,  15% cooked 
100% Plant Based
OM Master Prep kit provides five to nine servings of plant based ingredients per day, per person.  Featuring a variety of the freshest fruit and vegetables from the South Pasadena and downtown Los Angeles farmers markets. All produce is thoroughly cleaned, and chopped, whole grains are steamed, and beans are slow cooked.  A variety of fresh herbs,  assorted nuts and seeds, and whole grain breads and wraps  are also included in each kit.
Produce prep for 'you blend'  juices and smoothies,  and an easy to care for sprouting set up is also available
Everything you need to easily create ultra fresh and healthy meals and snacks using your own recipes, Om EZ prep kit dishes,  Google recipes or Om cooking on the Om Chef blog.. Prep kit will last approximately 4 days if used exclusively. Sturdier ingredients like cauliflower, carrots, celery will last 7-8 days.
Prep kit is 100% vegan.
Carnivores can easily add grilled poultry, beef or  seafood, and Vegetarians may add dairy and eggs 
Suggested Daily Servings: 5+ servings veggie, 2+ servings greens, 1 serving bread, 2 servings cooked whole grain, 3 servings beans, 1 serving nuts, 3 serving fruit (mostly fresh/fresh)
Suggested Per Person 3-4 days:
32+ oz assorted vegetables
32+ oz greens, kale, spinach, chard any leafy green
16 oz fruit
16 oz  slow cooked  beans, peas or legumes
6 servings breads/wraps
6oz assorted fresh herbs
8 oz  fresh vinaigrette
8 oz chopped onion
4 oz chopped garlic
8 oz nuts/seed
Fall/Winter
Slow Cooked Beans & Peas:  white beans, black beans, black eyed peas, French lentils, Beluga lentils,
Grains:  Brown short grain rice, black Forbidden rice, white and red quinoa, brown Basmati, Farro
Fresh Herbs:  Thai Basil, Italian basil, tarragon, cilantro, mint, dill, oregano, shiso, parsley
Sprouts: buckwheat, radish, sesame,
Greens:  baby spinach, Dino kale, collard greens, chard, beet greens
Veggies:
Asparagus, raw and lightly steamed
Aubergine, Chinese, Thai and Japanese, sea salt roasted
Broccoli, chopped
Chinese broccoli
Fennel, chopped
Parsnips
Spinach
Kabocha
Cauliflower, white, purple and/or gold, chopped
Purple cabbage, shredded
Green beans, trimmed
Carrots, orange, purple and gold, shredded and/or chopped
Parsnips
Fennel, shaved and chopped
Beets, red, gold and candy stripe, shredded /chopped
Onion, purple, sliced / chopped
Onion, yellow, chopped
Bell Peppers, red, yellow and orange, chopped
Purple and pink potatoes, steamed
Red Garnet Yams, shredded…yes, they are delish raw
Red Garnet Yams, roasted
Purple Okinawa sweet potatoes, roasted, steamed
Peruvian Purple potatoes
Mushrooms,  Shiitake, Trumpet and Cremini, sliced /chopped
Zucchini, chopped, shredded
Fresh Chopped Fruit:
citrus
cantaloupe
honeydew
Korean melon
pineapple
mango
apples
fig
grapes
Nuts:  walnuts,  almonds, pecans,
Seeds: flax, chia, hemp seed hearts, pumpkin seeds
Dried fruit:  cranberries, gogi berries, cherries, apricot,
Whole wheat lavash, rice paper, (collard greens)
Ezekiel sprouted grain bread, GF wraps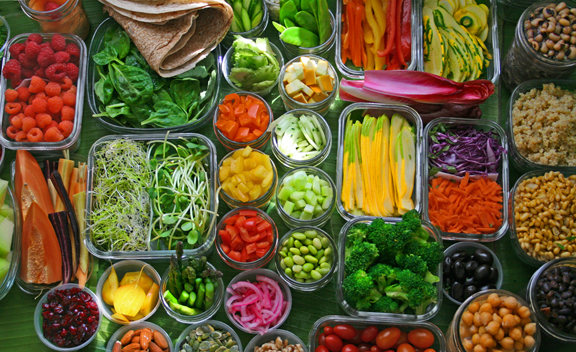 "I don't understand why asking people to eat a well-balanced vegetarian diet is considered drastic, while it is medically conservative to cut people open and put them on cholesterol-lowering drugs for the rest of their lives."
-Dean Ornish, M.D.