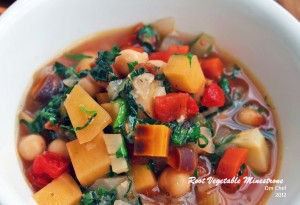 Add to Wishlist

Product Description
About the time of Tiberius [42 B.C.-37 A.D.] there lived a man, Marcus Apicius, very rich and luxurious, a renowned gastronomer and over the top foodie. It is to Marcus that we credit the creation of Minestrone and numerous other dishes.  Marcus Apicius lived during Rome's most interesting epoch, when the empire had reached its highest point. Culinary tools on par with what we use today,  food ingredients were varied and often exotic, including flamingo tongue and turtle. Fresh produce was plentiful and vegetarian cuisine was fashionable. 
OM Root Veggie Minestrone is in the spirit of  Apicius' soup from ' De Re Coquinaria'.   A lush blend of purple, orange and gold carrots, rutabaga, parsnip, high protein chick peas, leeks and onions in a garlicky, oregano scented tomato, fennel broth. Finished with a liberal use of fresh chopped herbs and greens, just as Marcus prescribes.
Fabulous with OM Sprouted Grain Focaccia
Marcus would recognize all ingredients with the exception of orange carrots, a modern high bred, and tomatoes….who knows what he would come up with if tomatoes had been available
 Ingredients: purple, orange and gold carrots, Laurentian rutabaga, parsnip, sprouted chick peas, tomato, Dino kale, leeks, onions, garlic, oregano, fennel, rosemary
Power Foods: Rutabagas/Swedes are the offspring of wild cabbage and turnips and offer all the cancer lowering benefits of cruciferous veggies in a tasty root veggie form. According to the Linus Pauling Institute, Indoles in turnips may reduce your risk for lung and colorectal cancers. Like rutabaga, turnips are actually a cruciferous veggie.

Additional Information
| | |
| --- | --- |
| Weight | 3 oz |
| Dimensions | 3 x 2 x 2 in |