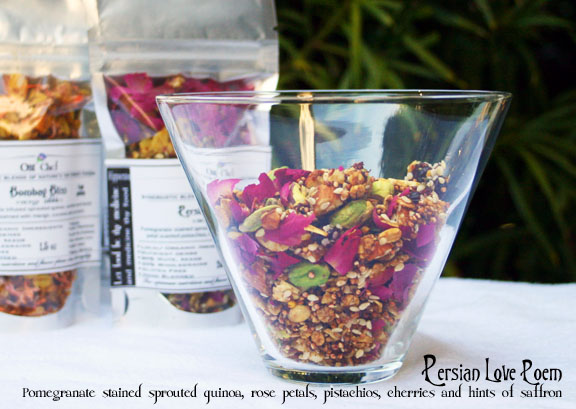 Add to Wishlist

Product Description
Let yourself become living poetry.
~Rumi
Rumi, mystic and poet, beloved by Christians, Muslims and Jews, was a foodie! His poems are liberally sprinkled with rose petals, almonds and saffron. Persian Love Poem is dedicated to Rumi, and snacking on rose petals is surely 'living poetry'
Persian Love Poem
High protein power snack with zero added sugars, fabulous with nut milk, or crumble over salads and veggies for instant bliss
Organic/local Ingredients: GF oats, pomegranate stained sprouted quinoa, almonds, pistachio, dates, dried cherry, organic rose petals, coconut butter, cardamom, turmeric, hints of saffron with a pinch of sea salt.
 Power Ingredients: Oats, Quinoa and Saffron work together satiating appetite and keeping blood sugar stable.
•High protein Quinoa is especially rich in antioxidant, quercetin, key to cardiovascular health.
•Beta glucans found in oats reduce cholesterol and blunt glycemic and insulin response, beta glucans also boost defenses of the immune system agains bacteria, viruses, fungi, and parasites. 
•Cherries fight inflammation and help prevent strokes.
•Saffron has a long history as the most expensive and most prized culinary and medicinal herb. Now science is showing Saffron really does  have multiple, amazing benefits.  Including antidepressant action on par with pharmaceuticals, effective for pms, and Saffron contains safranal, a volatile oil found in the spice, and Alfa-crocin, a carotenoid compound, both have antioxidant, cytotoxic effect on cancer cells, anticonvulsant and antidepressant properties. Most recently, in a double-blind, placebo-controlled study suggests that at least in the short-term, saffron is effective in mild to moderate Alzheimer's Disease.
As with many herbs, Saffron may not be advised if you are pregnant. Especially higher quality herbs with greater potencies and in higher doses. Check with your MD