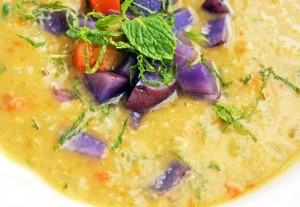 Categories: anti-diabetic, anti-inflammatory, anticancer, Antidiabetic, blood sugar stabilizer, Freezer Friendly, Gluten Free, high protein, Pitta, power spices, Soup, Vegan.
1 in stock
Add to Wishlist

Product Description
Enlightened & Empowered Pea Soup
Peas are a power-packed super food dating back to ancient times. Aristophanes spoke of pea soup in 'The Birds', and since the time of the Vikings pea soup has been a Thursday dinner tradition in Sweden and Denmark. Pea soups can be found in a variety of cuisines.
But somewhere during pea soup's culinary history, a piggie wandered into the recipe. The veggies all but disappeared and the few that remained were cooked beyond recognition.
Pea soup is instantly enlightened when the pork and animal fats are removed. In place of pork extra root veggies and super spices and are cooked with the peas.  A power green, herb chiffonade and squeeze of lemon empower and finish the dish. The result? A soup much like the luxurious Potage Saint Germain, a dish created for Louie XIV. A meal of nourishing goodness fit for a king. And the piggie is surely happier.
Ingredients: organic split peas, parsnips, rutabaga,  rainbow carrot, purple and pee wee potato, kale, celery, fennel, red onion, garlic, kombu, arugula, dill, mint, parsley, turmeric, thyme, rosemary, olive oil, lemon, sea salt
Cooking Time: 40min.
2 Quarts
8 servings
Freezes well