Enlightened eating made easy 
A delicious way to get  5-9 servings of a variety of whole, unprocessed plant foods daily to help prevent or reverse the most common diseases. Including heart disease, obesity, diabetes, cancer and more.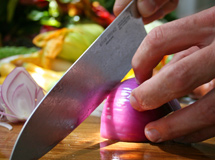 How does it work?
1. Select 6-8 dishes and/or Master Prep kit from the OM a la carte menus below
2. Request the addition of animal foods as desired
3. Book your cooking session and get ready to enjoy 3-4 days of OM made, ultra healthy cuisine
Special health issues, including multiple allergies, chemotherapy, diabetes and celiac disease require special care. Please email a brief description of your health issue and we will co-create  menus tailored to your specific needs.